Digital Signage Hardware
Fully compatible, cost effective digital signage media player, built for Xibo
Top selling Xibo for Android Media Player
Purchase our recommended Android Media player, the DSDevices DSCS9X, exclusively through Xibo,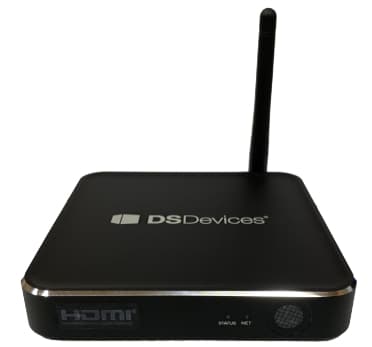 The DSDevices DSCS9X is a digital signage player purpose built to run Xibo for Android.
The DSCS9X has been built and fine-tuned for Xibo for Android. It comes complete with Xibo pre-installed, to make set up even easier. Worldwide shipping available.
A few key features we really like about this media player:
1-year return to base warranty should you need it

Xibo and Teamviewer come pre-installed (license required).

2x USB, Ethernet networking, HDMI and WIFI
† per unit
†(excludes VAT/GST, other taxes/duties may apply, excludes shipping.)
*DHL ships to over 220 countries worldwide. Some countries are not available for shipping of DSDevices. Please check the shipping FAQ the country list to make sure we are able to ship to you.
Buy from My Account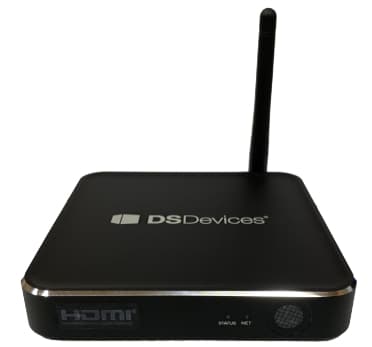 Let's get technical
Full device specification
Model No: DSCS9X
CPU: Amlogic S922X Quad Core ARM Cortex-A73 @ 1.8 Ghz and dual core ARM Cortex-A53 @ 1.9 Ghz CPU
GPU: ARM MaliTM-G52MP6(6EE)
RAM: 4GB DDR4
Internal Storage: 32GB eMMC
OS: Android 9.0
HDMI: HDMI 2.0a With 3D, HDR, CEC and 4Kx2K@60fps max resolution (1080p upscaled to 4K)
WiFi: Dual Band WiFi 802.11 b/g/n/ac 2.4 and 5.0 GHz
CEC (Consumer Electronics Control)
Xibo Pre-installed (separate license required)
TeamViewer Pre-installed (separate license required)
Screen rotation
Auto power on
Dimensions: 10.8cm x 12.2cm
Warranty: 1 Year RTB
Cable: 1.2m HDMI
Colour: Black
Front Panel: (Status and Nic Led)
Rear Panel: (Video Output: HDMI, AV, Optical Audio, Power: 5VDC 2AMP, Networking: Ethernet 100/1000Mbps)
Side Panel: (1 x USB 2.0, 1 x USB 3.0, SD Card)
Proxy: Unauthenticated proxy supported on wifi or LAN connection. Authenticated proxy not supported.
Terms
The DSCS9X is a purpose built "set top box" device with an unlicensed copy of Xibo pre-installed, and can be connected to a monitor/display panel via HDMI. For technical support please email our help desk. The manufacturer of this device provides a 1 year return to base warranty for hardware faults.
We recommend taking insurance on all orders and are not liable for lost/damaged deliveries where insurance has not been taken. Units are dispatched from our warehouse in London, United Kingdom or from Boxtel, the Netherlands depending on your delivery address. Please see our shipping FAQ for more information.
Delivery is handled by our Logistics Partners EV4 Limited and Hexspoor E-fulfilment. Where we ship products to countries where taxes or duties may be payable, you are responsible for paying these unless you select to pre-pay charges at checkout.
Buy from My Account
"The devices from DSDevices (DSCS9) have become our main hardware solution because of the full out-of-the-box integration with Xibo".
Fit Solutions improves customer experience with Xibo Signage and DSDevices.
FAQs
Got questions about hardware? Check out top FAQ's and if you still can't find what you are looking for, visit our Community or Contact Us.