Digital Signage Hardware
Fully compatible, cost effective digital signage media player, built for Xibo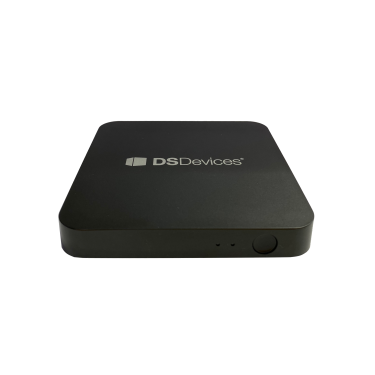 DSCS95
The DSDevices DSCS95 is a digital signage player purpose built to run Xibo for Android and is best suited for use in simple digital signage networks.


† per unit
DSCS9X
The DSDevices DSCS9X is a commercial digital signage player purpose built to run Xibo for Android and is best suited for use in more complex digital signage networks.


† per unit
† (excludes VAT/GST, other taxes/duties may apply, excludes shipping.)
Not sure which one to choose?
Compare our recommended DSDevices media players
| DSCS95 | DSCS9X |
| --- | --- |
| Suitable for customers who don't need all the additional features of a higher specification device, and need to prioritise cost over speed or storage, without sacrificing reliability. The DSCS95 is designed for customers with simpler digital signage needs such as single regions with basic video or image content. | Suitable for customers with more complex digital signage requirements. With a faster processor and more storage and RAM, the DSCS9X gives you the flexibility to show layouts with multiple regions, use Xibo's interactive features, or show web or streaming content. |
| Plastic chassis | Metal chassis |
| 100M ethernet networking | 1G ethernet networking |
| 16GB storage | 32GB storage |
| 2GB RAM | 4GB RAM |
| | Mirror/Wall Sync (upcoming feature not yet available) |
| | Double the performance of the DSCS95 (Geekbench 5 test) |
| | |
View full technical comparison
Terms
The DSCS9X/DSCS95 are purpose built "set top box" devices with an unlicensed copy of Xibo pre-installed, and can be connected to a monitor/display panel via HDMI. For technical support please email our help desk. The manufacturer of this device provides a 1 year return to base warranty for hardware faults. (Additional 2 year extended warranty available to purchase)
Delivery
We recommend taking insurance on all orders and are not liable for lost/damaged deliveries where insurance has not been taken. Units are dispatched from our warehouse in London, United Kingdom or from Boxtel, the Netherlands depending on your delivery address. Please see our shipping FAQ for more information.
Duty and taxes
Delivery is handled by our Logistics Partners EV4 Limited and Hexspoor E-fulfilment. Where we ship products to countries where taxes or duties may be payable, you are responsible for paying these unless you select to pre-pay charges at checkout.
"The devices from DSDevices have become our main hardware solution because of the full out-of-the-box integration with Xibo".
Fit Solutions improves customer experience with Xibo Signage and DSDevices.
FAQs
Got questions about hardware? Check out top FAQ's and if you still can't find what you are looking for, visit our Community or Contact Us.