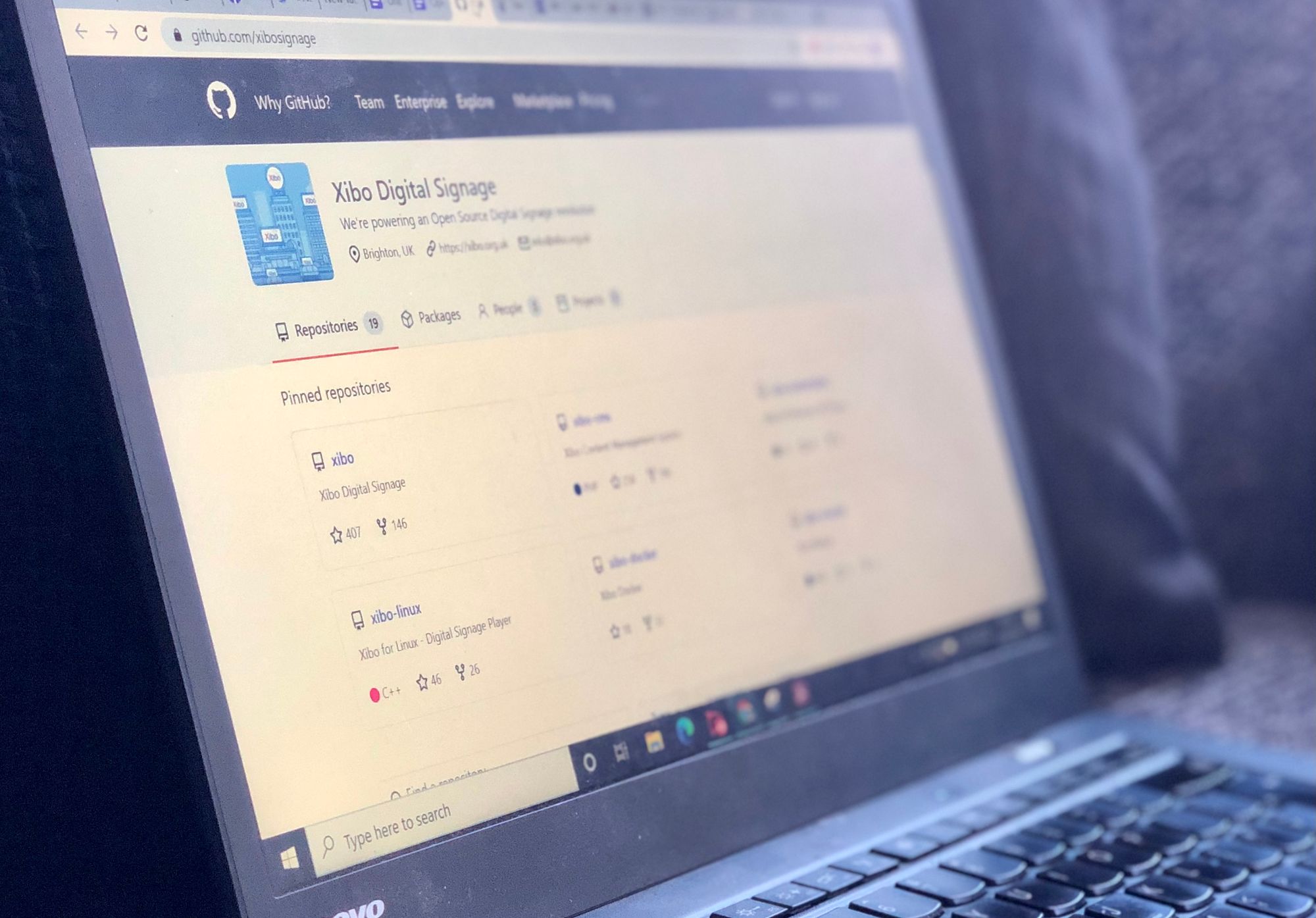 An Introduction to Open Source Digital Signage
"At Xibo Signage, we pride ourselves in being an open source solution and are committed to staying open source! We believe in Digital Signage for all, regardless of skill or technological knowledge."
Awesome right? But if you're new to the world of open source, you might have a few questions, and wonder what it means for you and your business. We're here to help answer those burning questions!
What is Open Source Software?
When thinking about software or applications, consider the coding that the developer writes to make the software work. This "source code" runs in the background and the average user has no involvement with it. Most of the software which we use today is "closed source" meaning that the code is not accessible to the general public and is kept secure by the developer or company that owns it.

"Open source" software is the complete opposite. The source code is publicly available online. Anyone is welcome and encouraged to read the code, learn from it and improve it, provided that anything they do with it complies with the open source licence it has been made available under.

What parts of Xibo are Open Source?
At Xibo, we are committed to providing a fully functional digital signage solution entirely open source, under the AGPLv3 licence. With that goal in mind the core of Xibo, the content management system, is open source as are our players for Windows and Linux.

We also maintain a set of libraries and other components which are released as open source. All of the source code is available online in our @xibosignage organisation on GitHub.

Why are some parts of Xibo Open Source and others not?
Our journey with digital signage has been a long one, and although we started with an entirely open source solution, it became quickly apparent that users liked and appreciated the open nature of our software, but also wanted additional services such as a hosted Xibo CMS, players for other types of hardware and support.

To provide these capabilities, we develop and maintain some proprietary software, such as the platform which runs Xibo in the Cloud and our players for Xibo for Android, webOS and Tizen. While these are commercially available and proprietary, we are absolutely committed to keeping the core software open source.

What are the benefits of Xibo Open Source?
There are several benefits to using Xibo Open Source Digital Signage.
First and foremost, it's cost effective! As in, it's FREE! You can self-host our Content Management System and either a Windows or Linux player for your digital screen, for free.
Because it's open source, it has the benefit of a large community providing valuable input into the development and improvement of the product, making the Xibo software the best it can be.
This large community also has a wealth of knowledge and offers valuable support to offer new and existing users.
The open source community is also highly innovative and offers the ability to develop integrations and add-ons with no additional cost.
Are you an agency or reseller? You may provide Xibo digital signage to your customers free of charge and charge for value added services such as installation, support, design services etc. Learn more on our Become a Partner page.

I'm not technical, can I still use the Xibo Open Source Software?

We've tried to make it as simple as we can for anyone to use our open source software! We have a wealth of documentation and guides on our website, available to take you through the process step by step. But we also understand that open source can be daunting if you're new to it, and if the phrase "web server supporting PHP/MySQL" is gibberish to you, we recommend trying our cloud hosted solution, Xibo in the Cloud, which is competitively priced and includes expert support from the Xibo team. You can try it out for free for 14 days to see what you think!
Still got questions about Xibo Open Source Digital Signage? Contact us for a chat to discuss!




More
Read more from the blog
More
Read more from the blog