Menu Boards: Products
Display data for Products held in a Menu Board anywhere on a Layout using Elements.
Menu Board: Products
Available from CMS: 4.0
Menu Board: Products

4.0

Cloud
The Menu Boards: Products Widget primarily consists of a Menu Board source which feeds into configured Elements.
Menu Boards
need to be created with added Products prior to adding the Menu Boards: Products Widget to Layouts.
Product Elements
Elements are available for selection when adding a Menu Boards: Product Widget to a Layout to give Users more control over what components of Menu Board Products to use and where they can be placed.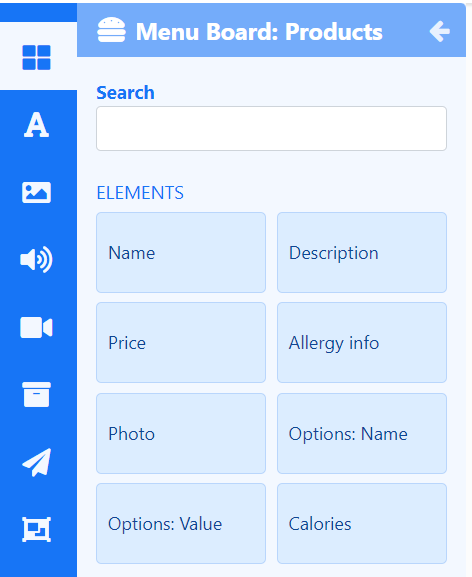 Each Element has a set of configuration options in the Properties Panel. A Menu Board must be selected to use as the data source from the Configure tab for each Element used on the Layout. Control how items should be cycled by specifying a Data Slot to use for each of the added Elements. Data Elements can be further complimented by adding Global Elements to add shapes and text which can all be put into an Element Group for easier configuration and positioning.
Overview
Update Elements with new Product data by editing the underlying Menu Board data.
Update Menu Board: Products Widget content without accessing Layouts.
Select how items should be sorted.
Choose to show Products that have been marked as unavailable.
Unavailable items can be shown 'dimmed' to be less prominent.
Duration can be set per item.
Content for this media is cached by the Players for off-line playback.
Use with the Menu Boards: Category Widget to include header information to compliment the presentation of Product data to show on Displays.
Next…