Upgrading the CMS
The CMS can be upgraded to later versions to take full advantage of all new features and the latest bug fixes.
We recommend that all users should upgrade when possible to the most current release. Prior releases are supported for a time after the release of a new major version.
Supported Versions and Environments
Xibo Cloud Hosting
Customers with Xibo Cloud Hosting can request an upgrade from My Account, using the available buttons at the end of the CMS Instance row.
Cloud customers can also set their CMS to automatically upgrade: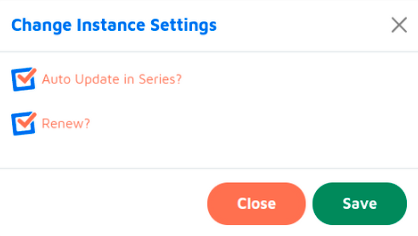 Auto update in Series - tick to automatically updgrade the CMS Instance as new minor versions become available for the CMS.
Renew - tick to renew this CMS instance when it expires.
Self Hosted
Please select the upgrade instructions appropriate for your installation method to guide you through the process.
Supported Upgrades
Direct upgrades from 1.4, 1.5, 1.6 to 1.8, 2.x and 3.x are not supported, instead the CMS must be upgraded from 1.4 to 1.7 from 1.7 to 1.8 from 1.8 to 2.x ,3.x
Each release comes with detailed release notes, which are documented via the Blog on our website